A spiritual romance like no other
American author Kathryn Adams has an agenda: chill out on her favorite Greek island and recover from her latest book launch. Apollo, the devastatingly handsome ancient Greek god of wisdom and light, also has an agenda: Come back to Earth, convince Kathryn he is who he says he is, obtain redemption for his betrayal of her in a previous life as a Delphic temple priestess and get her to join forces with him in his desperate gamble to save humanity from the evil doomsday plot perpetrated by one of his fellow gods.
From the initial mortal-meets-god reunion on Mount Parnassus where Apollo tests Kathryn's ethical fiber by offering to restore her lost youth if she will worship him (she refuses) to Apollo's intense and ultimately healing seduction of Kathryn on the island of Paros, from hidden temple catacombs to an inter-dimensional, cross-time, Goddess ritual Kathryn must perform along with her third century BCE former priestess self in a last-ditch attempt to save the dying Apollo, this is a mystical tale of love and sexual healing that explodes the myths surrounding older women and sex, the relationship between the gods and man and ultimately the material illusion of the world itself.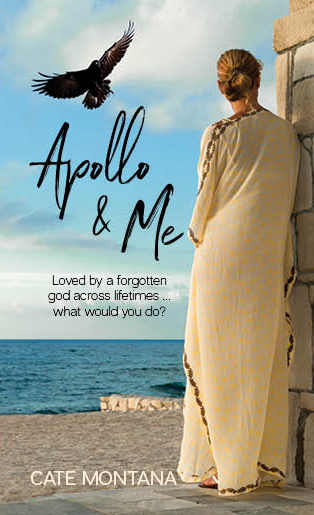 A mind-blowing love story between a gorgeous Greek god and a woman entering a stage in life where such a romance seems impossible, Apollo & Me masterfully exposes the wounds we must heal to reach sacred union and true love.  Exhilarating, vastly entertaining, shocking and liberating,
– Michelle Morris, 63, analyst